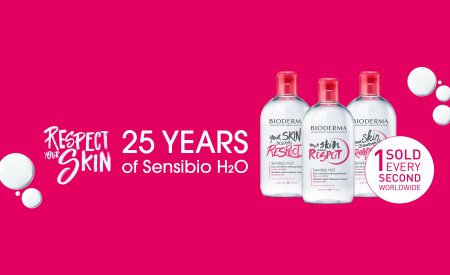 25 years respecting sensitive skin
Your skin deserves respect
Micellar water, our cleansing innovation protecting your skin
When Bioderma became true pioneers of the beauty industry, inventing Micellar cleansing water technology 25 years ago, we wholeheartedly knew it would become a part of the beauty industry vernacular for decades to come. 
Some say that imitation is the highest form of flattery, and while it may be true that others have tried to replicate our makeup remover water in the last two decades, none have come close to giving customers the same results as our innovative cleanser has and will continue to for years to come. 
Give your skin the respect it deserves with the original Micellar water cleanser.
Make Micellar Water Cleanser a Part of Your Skincare Routine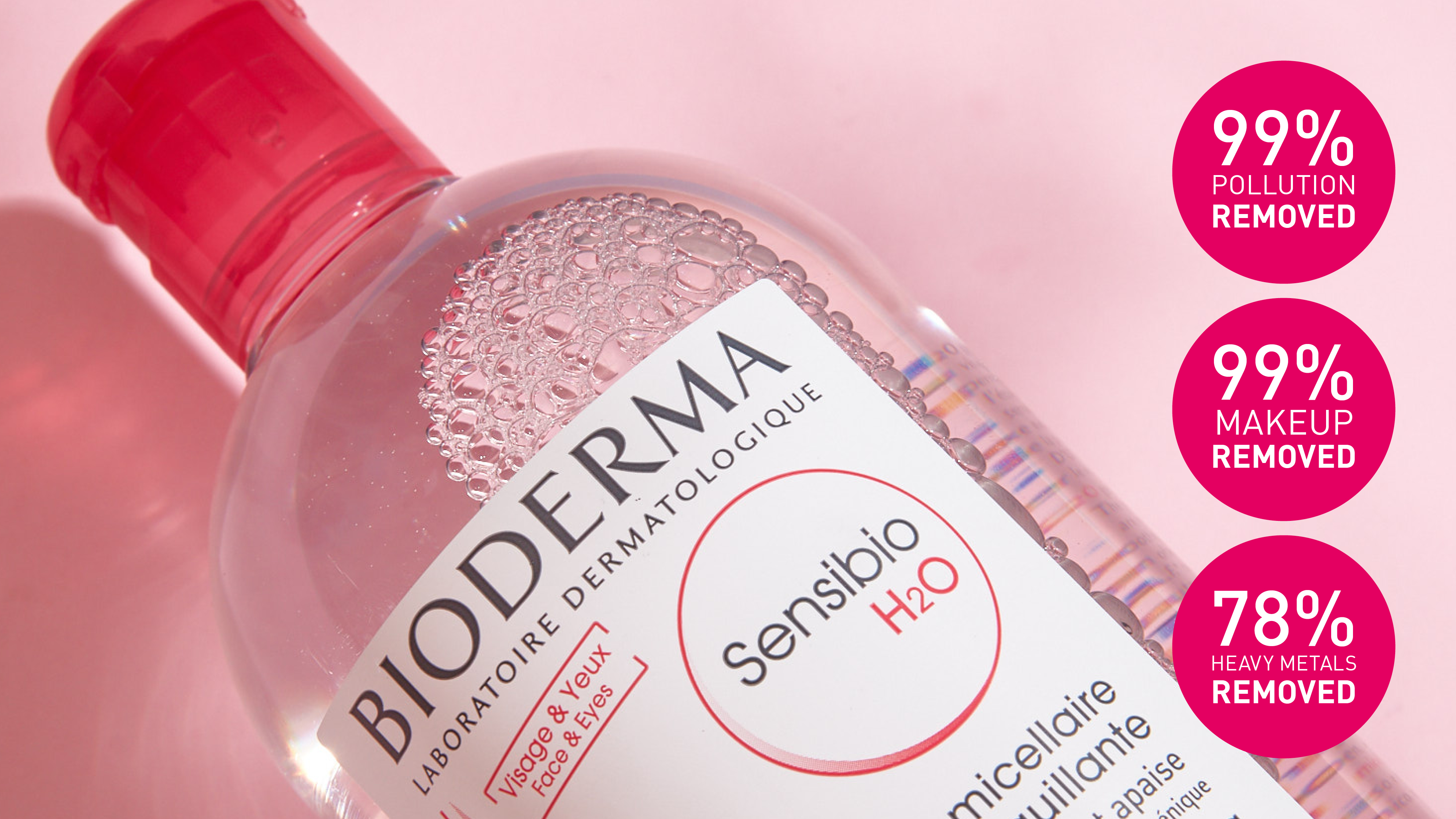 Even when you're not wearing any makeup, impurities and pollutants need to be removed from your skin every morning and night to ensure you're putting your most naturally glowing face forward. Sensibio H2O was created specifically to combat the irritation of skin that can occur when you're cleansing. 
Our Micellar water is scientifically formulated to:
Reduce inflammation and redness

Respect the skin's barrier and not strip it of its natural protection Eliminate stripping of the skin

Be at the same pH level as the skin's (5.5) to ensure perfect compatibility

Remove 99% Pollution and Makeup and 78% Heavy metal particles

Be rinse free

Trap dirt and impurities with its magnet-like micelles

Be gentle on dry and sensitive skin
You can use micellar water for irritated or dry skin as its ingredients soothe any uncomfortable sensitivities you may encounter. Being a no-rinse Bioderma cleanser, it helps to avoid the drying or stripping effect of rinsing with hard tap water, and its cleansing power means there is no need to rub with a cotton pad which eliminates harmful and unnecessary friction.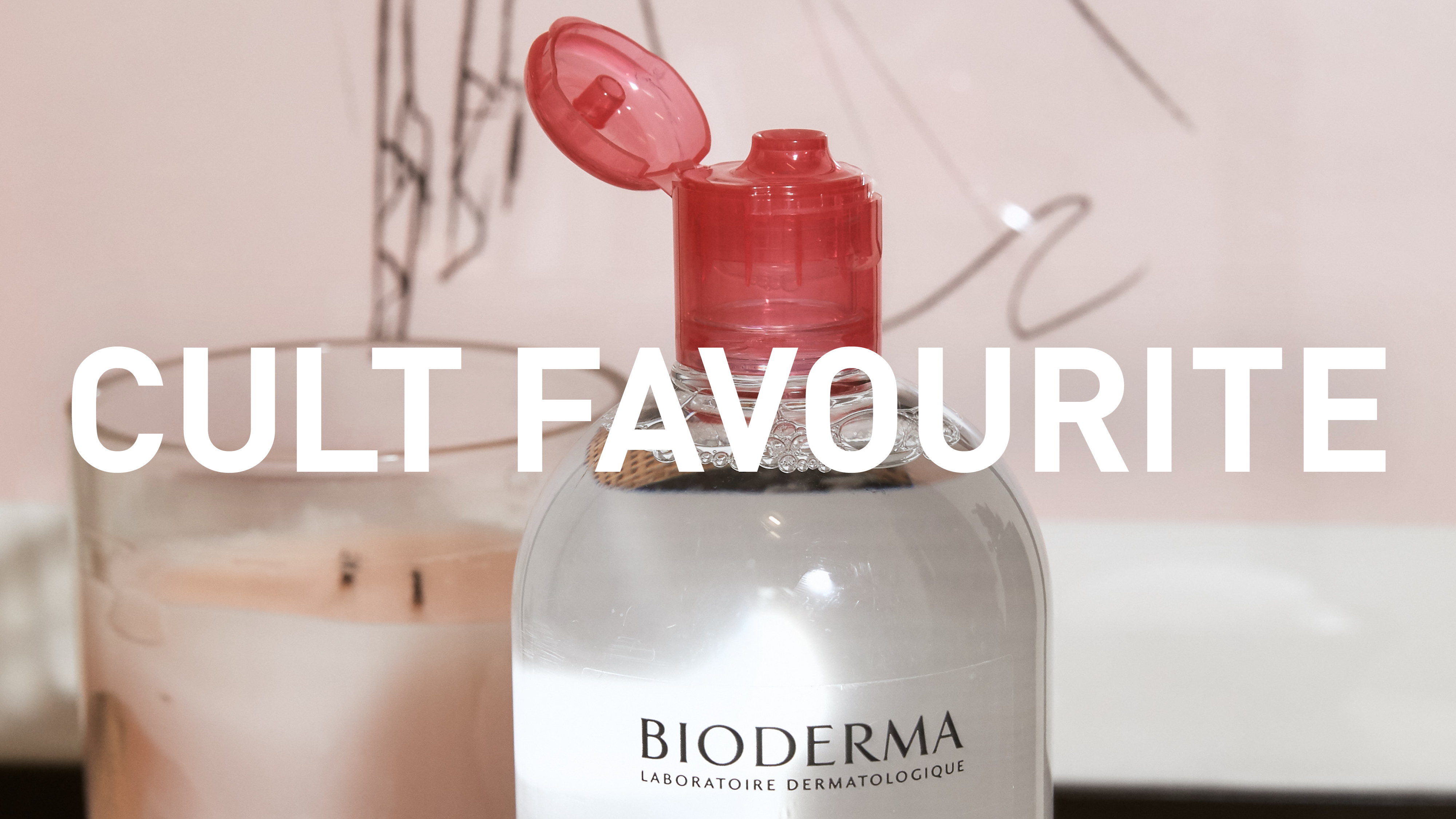 Loved by international celebrities and make-up artists, Bioderma Sensibio H2O had a meteoric rise to global cult status. Gaining praise from recognisable fans like Rosie Huntington-Whiteley, Victoria Beckham, Natalie Portman, The Kardashians and Drew Barrymore, this dermatologically tested and recommended product is a clear winner - it is afterall, still the number one makeup remover water after 25 years on the market.
With one bottle sold worldwide every second - for cleansing and soothing your precious skin, there really is no other product like our H20 cleanser.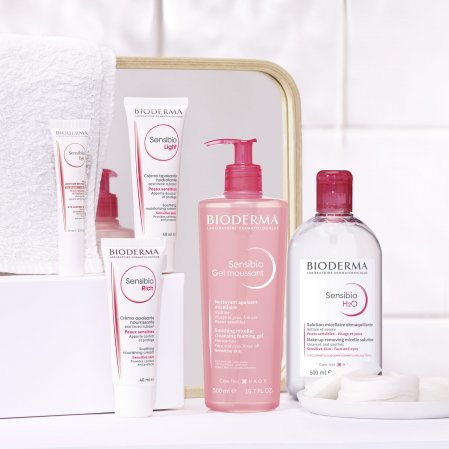 Hygiene & skincare
Sensitive skin
The Sensibio range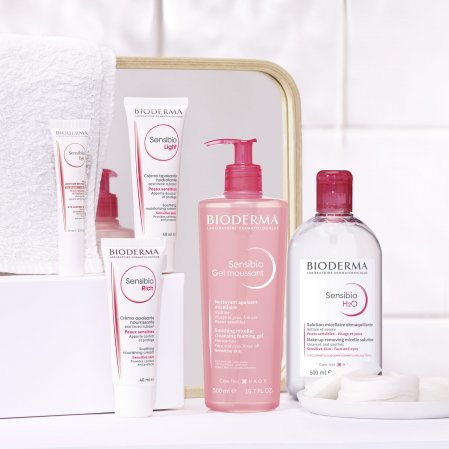 Symptoms of sensitive skin include tingling, overheating, tightness, feelings of discomfort, and diffuse or localised redness.

BIODERMA's solution: Sensibio, a range dedicated to sensitive skin. In addition to the iconic Sensibio H2O micellar water, the cleanser and make-up remover for sensitive skin, the range includes cleansing and care products that are recommended by dermatologists: face care products for sensitive skin, anti-redness products (available as a cream or BB cream), and more. Choose the routine suited to your skin!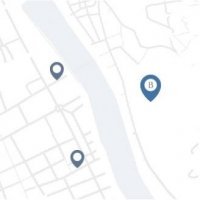 Find a store
View all our offers and products available in a pharmacy or health & beauty store near you.
Store locator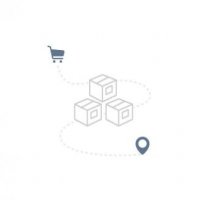 Order online
View all our offers and products available from our e-partners.